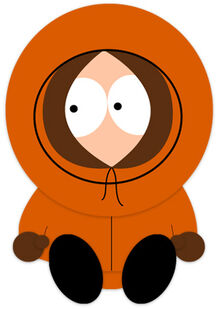 Kenny McCromick is the main character of South Park High School. He first appered in I'm Back but had his first speaking role in He Doesn't Love Me? after that he became a main character when he had a three way with Kyle Brofloski and Wendy Testaburger, but when the storyline changed, we started to see him less, we only see him once in the Season 2 premire Airplanes Pt. 1 and he, like in I'm Back is only mentioned as, "a boy in an orange parka" by Collin Wilson but he is now the leader of the gang The Bullgods so we should see him more.
Kenny has also been in the most relationships out of any of the South Park High School characters. He has been in a relationship with Bebe Stevens, Ivy DeLore, Wendy Testaburger, and Kyle Brofloski.
Kenny was revealed to play drums in A Love Song pt. 1, it was also revealed that his girlfriend, can play guitar. In Love Song, they just end up having sex, while they try and write a song.
Realtionships
Edit
He Doesn't Love Me? to Another One Bites The Dust
They BOTH Love Me? to The Shooting
Bebe Stevens (HOOK UP)
Sometime between Airplanes Pt. 1 and Another One Bites The Dust
Ivy DeLore (HOOK UP)
I Love You, Ivy to present